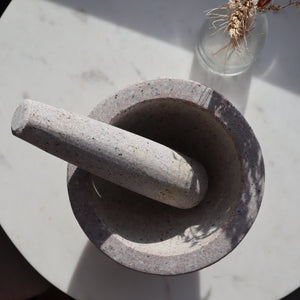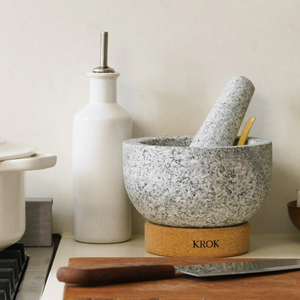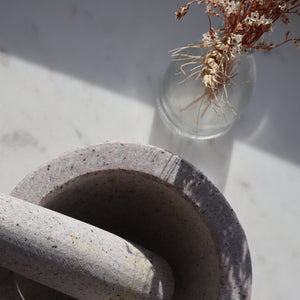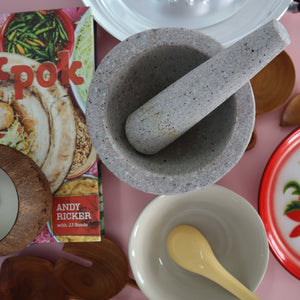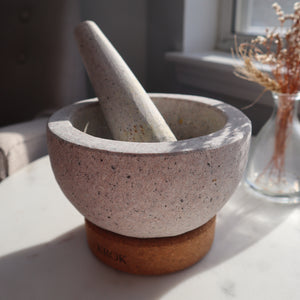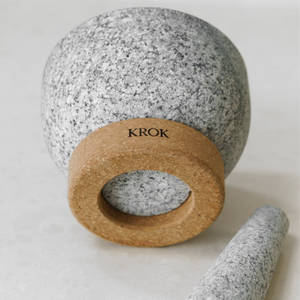 KROK THAI GRANITE STONE MORTAR AND PESTLE WITH CORK BASE AND SCRAPING SPOON SET
Description
Handmade in the Ang Sila village of Thailand which is famous for traditional mortar and pestle, the beautifully handcrafted granite kitchen equipment is a must have for Thai kitchens. What's unique about the set is the removable cork base which softens the pounding action and minimizes the need for support as you grind your favorite spices and herbs. Perfect for making fresh curry paste or the Pad Kra Pao aromatics!
This set includes
Mortar & Pestle: Unpolished natural granite, sourced from the mountains of Thailand, durable, food-safe. Holds about 3 cups.
Cork Base: Environmentally-sourced cork that is 100% biodegradable, recyclable and renewable.
Scraping Spoon: Strong stainless steel, enamel coated, food safe, resistant to rust, dishwasher safe.
Disclaimer: Each set is uniquely crafted may have variations in colors and designs.
Weight: 116 oz (3.3 kg)
Dimensions:  Mortar 6.7" D x 4.2" H, Pestle 1.5" D x 7.5" L
Country of Origin: Thailand