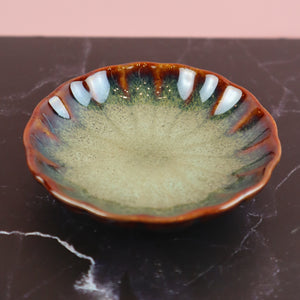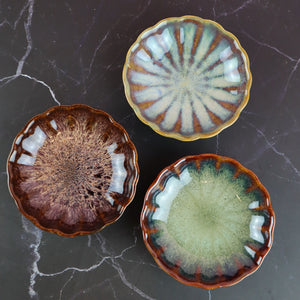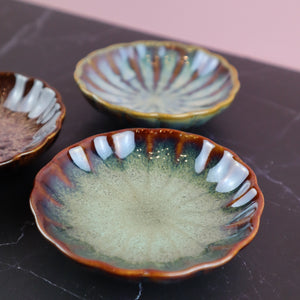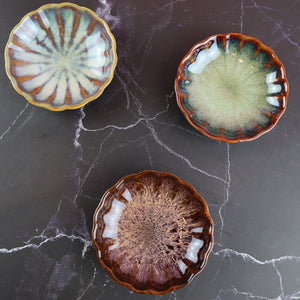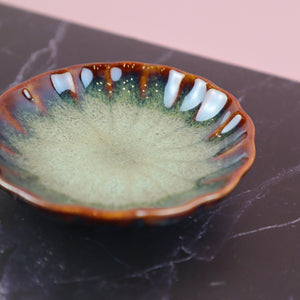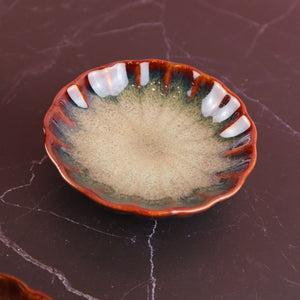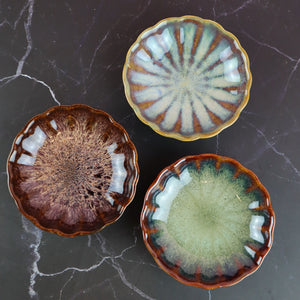 VIETNAMESE CHRYSANTHEMUM SMALL DISH - FOREST GREEN OMBRE (TRINKET DISH, KOBACHI BOWL, SPICE DISH, ACCESSORY DECOR)
Description
Flower shaped silhouette in the form of Chrysanthemum blooms, the forest green ombre lends a sophisticated and poetic accent to this versatile dish which uniquely resembles the gradient texture of the iris. The outer rims of the dish has a brownish effect reminiscence of the grounds of the forest which contrasts with the dark green tinge, fading into a light green like the young leaves. Poetic and mesmerizing, this dish captures the essence of a calm yet dream like forest.
Crafted by Vietnamese using heritage ceramic techniques, no two dishes are alike! Enjoy placing your favorite accessories and trinkets or contain your delightful culinary creations suitable for Japanese kaiseki small dishes, spices, and condiments.
Disclaimer: Each dish is uniquely crafted and may have variations in colors.
Weight: 3.7 oz (105 g)
Dimensions: ~3.5" D x 1" H
Country of Origin: Vietnam